Meet some of the current members of our community!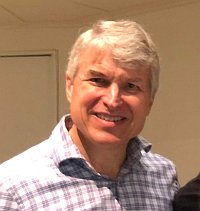 David
I grew up in Lancaster County, Pennsylvania, where I fell in love with Rosene, my wife of 40+ years. After completing degrees in German and business, Rosene and I moved to Baltimore, and a year later, settled in Raleigh. Throughout my career in finance and IT— working first for Black & Decker and then for GlaxoSmithKline—I sustained an abiding interest in languages, focusing on German and later Spanish.
My life-long commitment to social justice has been deepened in recent years, thanks to experiences like Racial Equity Institute training and opportunities to nurture relationships with members of the LGBTQ community. In the spring of 2021, the combination of a passion for languages and a zeal for social justice drew me out of retirement to work in the Immigration Legal Services area of Catholic Charities. On Sundays, my guitar and I join other musicians in leading worship at Raleigh Mennonite Church, where I also serve as treasurer. In my free time, I enjoy meeting with friends over lunch and learning about Latin American culture, history and cinema.
Rosene
I spent a happy childhood on a farm in Lancaster County, PA. Since practicing an instrument meant getting a break from grading and bagging potatoes each evening, my four siblings and I played a variety of instruments, sometimes performing together as a family. In 10th grade, I was invited by my band director to teach his younger flute students, jump-starting a single-minded career in music. As a music education student at Millersville University (PA), I met the kindest gentleman ever, and four years later, David & I were married and headed to Raleigh for David's job.
I established a private flute studio in the City of Oaks and, three years later, co-founded the Raleigh Area Flute Association and Raleigh Flute Choir. Today I can be spotted around town performing with Triangle Wind Ensemble, the Raleigh Flute Choir, in musical theater pit orchestras and various chamber groups. David and I lead music at church and occasionally perform as a flute/guitar duo for weddings and other events.
Being available to volunteer in the community has always been a priority, and I currently enjoy participating with a prison ministry team, coordinating music performances in retirement communities, hosting meals with international students and friends, and planning fun activities with my three precious grandchildren.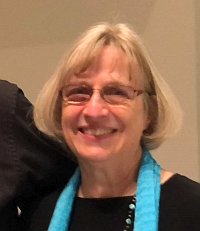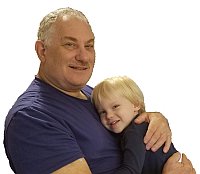 Marc
With no local extended family it's great to have a big "Acorn Creek Family." I greatly enjoy the support and community of these wonderful friends!

I was born in Canada but grew up in the suburbs of New York City. After college I moved upstate, married my high school sweetheart and started working at IBM. I worked in hardware and software development for many years before moving to a role supporting large banking and telecommunication customers. My career allowed me to work with international teams, travel, build "stuff" and make many friends. Since retiring I spend time with grandchildren, traveling, volunteering and renovating/managing six rental units.
My volunteer activities include: a pay what you can restaurant, providing coffee, biscuits and fruit once a month to Raleigh's under-housed community and volunteering at the local men's and women's prisons. I've also traveled with mission teams in North Carolina, Alabama, Louisiana, Guatemala, El Salvador and Bermuda. While volunteering and traveling I've met wonderful people, experienced their rich cultures and developed a healthier view of the world.
Sue
I have enjoyed retirement with my husband of 42 years! We have become involved in various volunteer opportunities around Raleigh, most of which are with A Place at the Table, Raleigh's pay what you can café, and at NCCIW, the women's prison.
In my spare time I enjoy playing with my grandson, gardening, reading, hiking and traveling to our National Parks. I am looking forward to living in community and developing our cohousing adventure!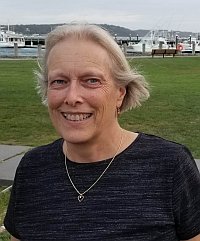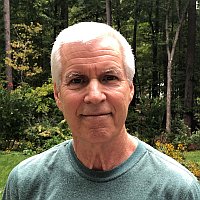 Todd
I am not Native American, but I consider myself something of a indigenous person. Both sides of my family have lived in central North Carolina as far back as I can trace, and except for a few years I have too. I have loved the mountains, the beaches, and even the piedmont.

An undergraduate degree in philosophy and religion from UNC and a love for the outdoors qualified me to be a carpenter/builder, who was always trying to figure out life on a deeper level. I married into a cosmopolitan family, adopted two Guatemalan children, chased my Doctors-Without-Borders wife around the world, and became enamored with a Vietnamese Zen monastery in Southern France. These days I enjoy just sitting, or just walking, alone or with friends. I enjoy the trees, the clouds, and the pond. I like it when community just happens.
Susan
I grew up in Rocky Mount, NC, moved to Raleigh to attend NC State University my junior year of college. I stayed at NC State for the next 38 years as a student and then employee, working in Information Technology. Along the way, I raised my amazing kid and built a community of friends that I cherish. Now semi-retired, I'm having fun exploring my next chapters of life–I teach bluegrass jamming and work part-time in marketing/administration for a small business.

Community is important to me and I'm excited about the community we're building at Acorn Creek. I look forward to sharing my passions and hobbies (playing bluegrass music, cooking, and knitting) with my neighbors, and developing new interests as part of our community. Our group's interest in service to others is one of the things that drew me to our group.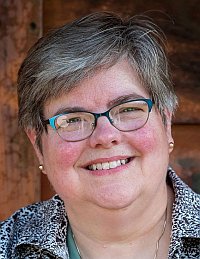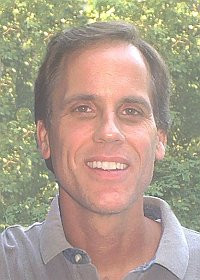 Craig
Born in Cleveland (Go Browns!) I moved with my partner Brenda to Raleigh in 1985 a bit on a whim partly due to the improved climate, and just to start our life in a new place. Lived briefly in Seattle, San Francisco and DC, (great places to visit) but we love calling this area home and ended up raising our family (two children) here.

I spent 25 years in the tech world, with the vast majority at Microsoft. I then transitioned to the social sector in the early 2000's with most of my work fundraising in DC supporting global literacy projects (especially for girls) with Room to Read. Post Room to Read I've been involved with social justice, antiracism, and community service organizations as well as work promoting gap years for rising college freshman through Global Citizen Year. Brenda and I (post-pandemic) will return to enjoying travel near and far. The idea of helping build an intentional mutually caring neighborhood community with a focus on empowering one another in creative service has been a goal for many years. So, I'm thrilled this is coming to fruition with the Acorn Creek community.
Dan
I was born in New Jersey to a family of Midwesterners (my mother was from Kansas, father from St. Louis), but I've lived most of my life south of the Mason-Dixon Line, in Virginia, western NC and Raleigh after hiking the Appalachian Trail end-to-end in my twenties.

I've been married to my wife Loretta since 1987. I am so lucky to be her partner, and we are equally lucky to have an incredible family – our son and his wife live in Charlotte, and daughter lives in San Francisco.

I have a background in landscape architecture and city planning, with degrees from the University of Virginia and NC State but my passion is being in some small way a part of the natural world. I love to garden and tend unusual plants. I actually like mowing grass and weeding beds. I can't stand being away from my beloved Southern Appalachian mountains for too long so I go out on lots of hikes. I like to learn the names of plants and birds and share the discoveries with Loretta, who has taught me all about things with wings. I've also been known to spend a lot of time on my bicycle, and to goof around with the guitar, banjo, ukulele and hammered dulcimer. I tend to read a lot of history and biography, and the New Yorker magazine religiously.
I had a 29-year career as a city planner and ultimately as assistant city manager for the City of Raleigh, and it's helped me to understand both the complexity, necessity and beauty of community. I am thrilled to be part of this extraordinary group of people embarking on this excellent adventure.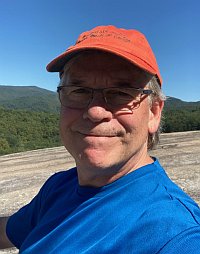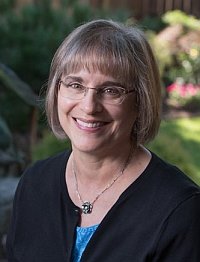 Loretta
I am delighted to be a founding member of the Acorn Creek Community! Both of my children are now fledged. My husband and I began reflecting on what we wanted next in our lives. We knew we did not want a traditional retirement community. When two friends began a search for others interested in developing a cohousing community, I jumped on board! I am so excited to be partnered with these wonderful, kind and compassionate people.

I grew up in Richmond, Virginia and went to college in a beautiful mountain town in Southwest Virginia. I moved to Raleigh right after college and have been here ever since. I am a clinical social worker and have worked in several different settings: women's health, community mental health, and Hospice. Currently I have my own therapy practice and work with clients with early developmental trauma using touch to heal the nervous system.
I love to cook. Luckily several others in our group do as well. I enjoy reading, hiking, and doing jigsaw puzzles. Meditation keeps me grounded. I also do Qi Gong. Birding is a passion of mine. We are lucky to have an amazing piece of property that is big enough to create a sense of rural space, but close enough to the town of Wendell to give us many options for outings. There are many preserves and parks nearby in which to bird and hike.
There is a lovely pond on our property. Our resident blue heron at the pond even has a name! I am looking forward to creating beautiful outdoor spaces to enjoy time with others and contemplate the divine in nature.
Ours is a service-oriented community and I am looking forward to volunteering alongside these amazing individuals. My heart is full!
David
I grew up mostly in North Carolina, with a stint in Philadelphia for college, followed by a return to North Carolina for law school. I have worked as an in-house counsel at NC State University and a consumer advocate at the Public Staff of the NC Utilities Commission.
My three children are in their twenties. All three were adopted as infants from Korea. For recreation I enjoy hiking, jogging (slower every year!), and tending to the family dog and chickens.
As Acorn Creek develops, I'm looking forward to building an energy efficient and solar-powered house, and being part of a community with progressive values and good social support.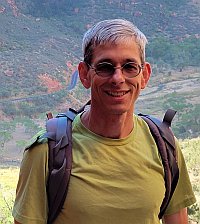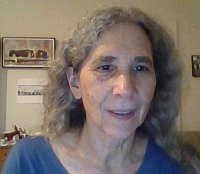 Elisa
I grew up in the Boston area and moved to North Carolina after college. I worked in nonprofits for a decade, and after a detour to graduate school in economics, have worked for state government for 25 years. I am looking forward to retiring from my current job in 2022 and to having more time for community and political work and for more deliberate engagement with friends and family. Outside of work, I enjoy my longstanding women's group, book group, cooking adventures, gardening, and being a member of Temple Beth Or. Our three children, all adopted from Korea as infants, are in their twenties and still very involved in our lives.

I have been interested in co-housing for some time and had experience living in group settings when I was younger. While raising children, we had many communities– from schools, neighborhood, sports, and other family activities. Now I am interested in building different kinds of community connection. I look forward to sharing with others at Acorn Creek and benefiting from their different life experiences and talents. I have lived in older downtown neighborhoods in Durham and Raleigh for 40 years but am ready to live a bit further away from the center of things and figuring out how to find our place in eastern Wake County.
Stan
I moved with my partner Brenda to NC in 1990 so I could attend grad school and she could complete a residency in hospital chaplaincy. We figured we'd be here for a few years but ended up raising our family here and living in the Triangle longer than either of us have lived anywhere else.

Most of my career has been spent working at NC State providing IT support and leadership, along with being engaged with the university community. Outside of work I've been involved with social justice and community service projects ranging from affordable housing to trying to learn how to be an antiracist. I love to tinker, discover new ways to get to places, and visit the mountains, whether they're in western NC or the western US.

The idea of being part of a group of folks who are intentional in creating a mutually caring neighborhood community, but also looking beyond ourselves to the broader needs in our world, is what has inspired me to be part of the Acorn Creek community. I'm looking forward to building a home there and using it as a springboard to be of continued service to others.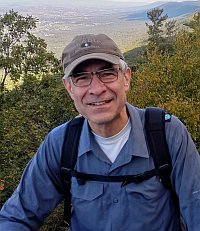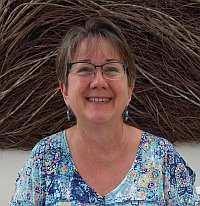 Brenda
After living in Ontario, Canada, Indiana, Ohio and Illinois as a child and a young adult, I've made North Carolina my home. I've had almost as many careers as moves, nurse, seminary student, chaplain, teacher assistant and grocery store employee. Married during my seminary years, I have two adult children who I love to laugh with. With a partner who is 6'4", and kids who are 5'11" and 5'7", I am the runt of the family.
A homebody, my interests run to reading. I love a good British mystery and historical fiction, quilting and needle crafts, whether using an embroidery needle, knitting needles or crochet hook. I'm also pretty committed to using a clothesline to dry my clothes rather than a machine. I dream of finding the time and a bit of good dirt to finally follow my five siblings' examples of planting and tending a vegetable garden. My thumb, while not black, is definitely not bright green.
My paid jobs have always opened opportunities for me to learn from and value and respect those who find themselves on the fringes of our society, whether it is participating in worship services or birthday parties at the local women's prison, helping serve a meal to those without a permanent home or speaking up for the LGBTQ community. The faith community I am active in serves as an encouragement and support in all these endeavors.
Brenda
I grew up in a small town in Ohio, but fortunately landed in the much warmer state of North Carolina with my partner Craig and have lived here for 41 years. My career as a teacher took several paths: a special educator, curriculum support, and reading specialist. I retired in 2020 (yes, just in time!) and enjoy being able to spend more time with friends and family.

I love growing flowers, reading, and playing games. I attempt to keep in shape through walking, yoga, and Pilates. I have two adult children and three, soon to be four, grandchildren, who I love spending time with. Now that I have more time, I hope to renew my piano skills and learn how to play the ukulele.
Since 2001, I have been very involved with a local nonprofit called Hearts and Hands for Haiti and have traveled to Haiti many times. I specifically work with our schools to establish libraries and science labs. I also participate in anti-racism groups to build relationships with people of color and understand what I can do to help dismantle systemic racism in our country.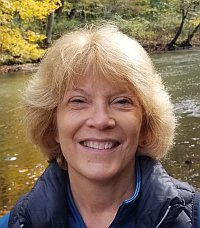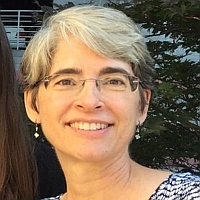 Deb
I was born and raised in northern Indiana within both a small college community (my dad was a professor) and a fairly tight-knit Mennonite community. I moved to North Carolina in 1992 and raised my children here. My kids are now adults who have flown the coop, but we are close and see one another often.
I teach college biology and global health. I've enjoyed a number of opportunities to take college students to various countries for study abroad. My focus is global health, but my real goal is to help students to understand and appreciate other cultures and to open their world view. I was fortunate to live in several other countries as a child and adult, and I love helping others to have similar experiences. I love the mountains and hiking, and I do yoga daily. Every Spring I create a garden because I like to play in the dirt, but the harvest is usually pretty meager. I'm hoping some of my fellow Acorn Creek gardeners can help improve my technique!
I am a part of the Acorn Creek community because I value the strength of living in a deliberate community. I love the idea of supporting and challenging each other to grow in new and unique ways. I have always cared deeply about social justice issues and appreciate being among others who not only hold those values but act on them. I look forward to being challenged and encouraged within this loving community.
Janet
I was born in Cameroon, West Africa, and, after 7 years, settled with my large family in Central Pennsylvania. After high school I attended Alfred University and got a degree in nursing. In 1974 I met my partner, Todd, when we were working at the same camp in upstate NY. We fell in love when we started "walking the sewer line" together each day. We spent two years exploring various intentional community options then, in 1980, we settled in North Carolina living in loose community with two other families.

We adopted two children from Guatemala and thus began a life of chaos and joy! I went to midwifery school in 1994 and, though it was a fulfilling career, I longed to work in developing countries. I took the plunge in 2010, quitting my job at Duke University and joining Doctors Without Borders where I worked in Sudan, Columbia, South Sudan, Nigeria and Malawi.
My retirement in 2016 brought with it the time to volunteer with a prison ministry and with hospice. I love to garden, quilt, knit, do jigsaw puzzles, play games, read and, most importantly, line dance! This season in my life is full of caring for elders and grandchildren.
I was sitting on our porch the other day, looking out at the pond and felt a deep sense of gratitude for this new community we are building together.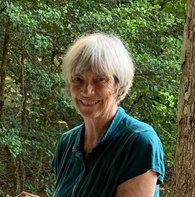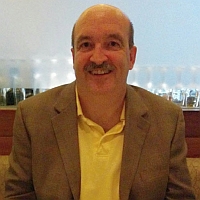 Steve
I grew up in northern Indiana on a farm. As a kid I participated in 4-H for 10 years where I met my wife. We got engaged while she was attending Purdue and I was working near DC. We were looking for a place where we could get married and be together while she completed her schooling. Raleigh became that place in 1983 when I received a job offer from IBM. We moved to Austin in 2000 to accept a great senior position. After working for IBM for 37 years, I retired from that job and later accepted a half-time position with Mennonite Disaster Service. I use my communication and computer skills to reduce the burdens of the Unit leaders across 15 states as well as the Region Board Chair.
I enjoy tennis, pickle ball, biking, playing games, traveling, reading, learning, and teaching. I also enjoy participating in service opportunities. In our Austin, Texas neighborhood I partnered with another neighbor and ran a 'Solarize' project for the neighborhood. The result of this project was 32 homes getting a great deal on a solar power system by a trusted vendor. The system on our house paid for itself after six years. I am looking forward to spending more time as a volunteer with Mennonite Disaster Service and other agencies after I retire "again." We are looking forward to reconnecting with people as we move back from Texas to North Carolina. I am excited to be part of the Acorn Creek community and the years that we all will have together.
Pat
My four siblings and I grew up on a small farm with my parents in North Indiana. My family had a strong tradition of involvement in the 4-H youth clubs, where I learned much about wildlife, trees, weeds, making food, sewing, small engines and growing corn and soybeans.

After beginning college at Purdue University I transferred to NC State in the mid-80s to get together with my sweetheart and finish my degree in Electrical Engineering. I was working as a software tester and very active in my church community for 16 years. We moved to Austin in 2000 and 22 years later, we are still in Austin – with change coming soon.

I have continued to be involved in my Austin church community, serving as bookkeeper. After retiring, I have also helped in the broader community by bringing day care kids to the community garden weekly and by preparing taxes for the IRS VITA program. I also volunteer with Mennonite Disaster Service where I anticipate filling the role of Office Manager for future long-term projects. I enjoy sewing, quilting, singing, dreaming and much more.

During the CoVID-19 pandemic, I reconnected with friends in Raleigh and learned about the developing Acorn Creek cohousing. I am excited to join the group and move back to North Carolina once our house is built. Having more intentional community close by will be great to create new memories of time spent with wonderful friends and in reaching out to continue serving the broader community in Wendell and Raleigh.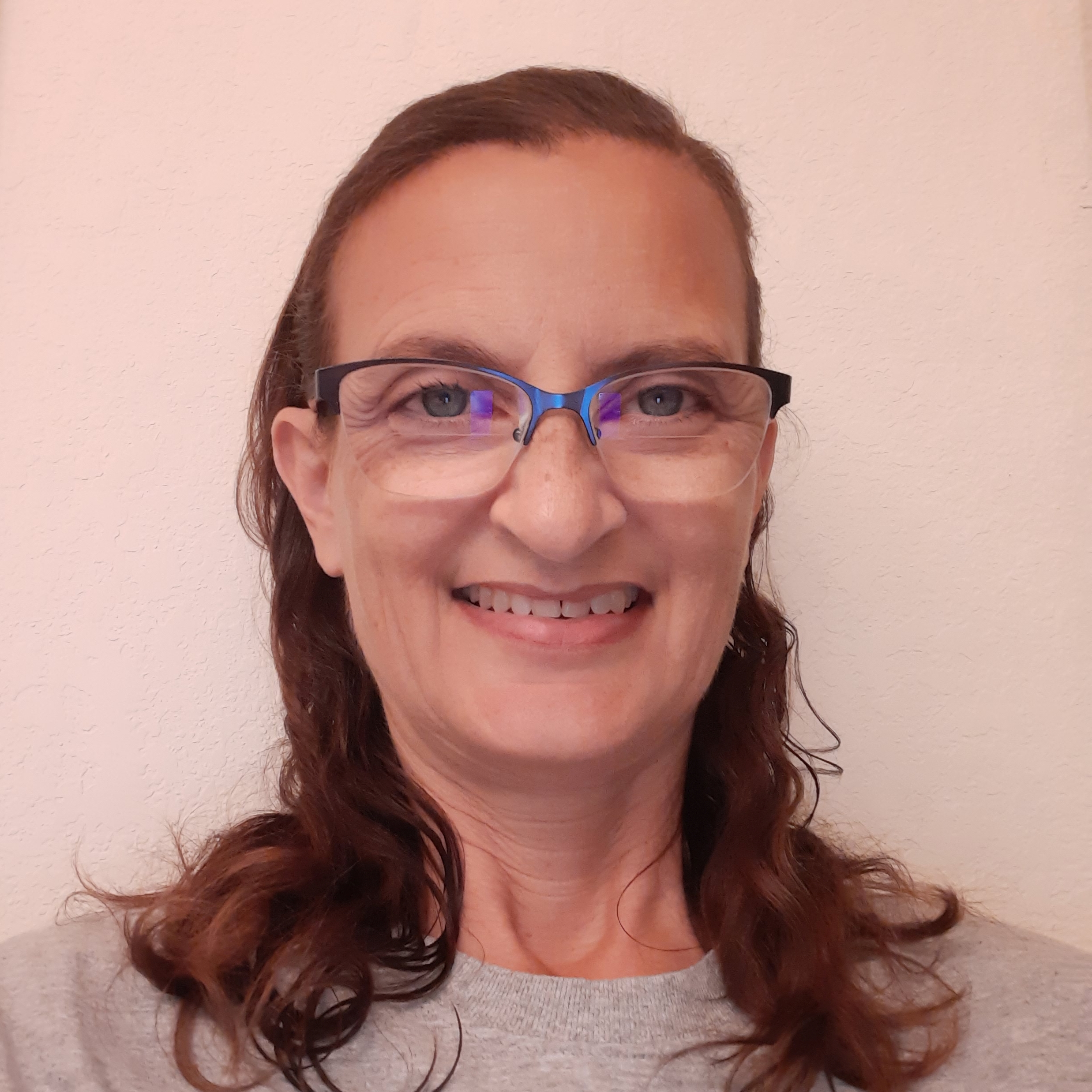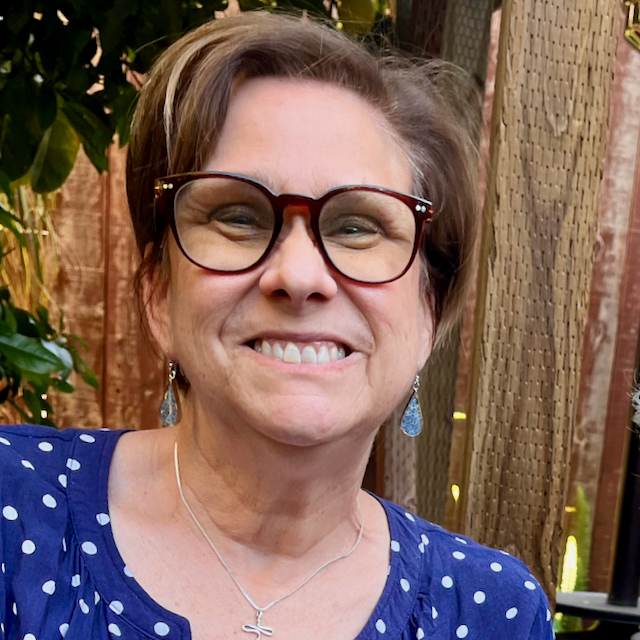 Carolyn
Born and raised in Raleigh, I was delighted when my well-traveled husband was willing to settle here. I rarely strayed far from home, earning degrees from UNC-Chapel Hill and N.C. State University. When I landed in Kenya as a teacher, I discovered more than I ever imagined, including a spontaneous, adventurous partner for life.
We have two twenty-something children. I enjoy reading, playing cards and board games, walking, traveling, boating, and learning new things.
I've worked in education my whole career. I've taught students with disabilities as well as high school and middle school English. For the past decade, I've worked at the college level facilitating accommodations for students with disabilities and advocating for equal access.
The Acorn Creek Community reminds me somewhat of the community we had in Kenya—shared values and a willingness to care for one another. I'm excited to serve others in Wake County and beyond alongside my Acorn Creek neighbors.
Paul
I was born in California but spent most of my growing-up years in Tanzania and Kenya, where my parents served as medical missionaries. After college in Michigan, I returned to Kenya to serve at my old boarding school. There I met my life partner, Carolyn. After finishing our teaching contracts, we married and settled in Raleigh. We have two awesome adult offspring.
I've spent most of my working career in the editing field, mostly working on educational materials. I continue to do freelance and contract editorial work. I enjoy traveling, hiking, and being on and around water.
We love the idea of intentional community, and we are looking forward to working alongside the other households to build something special at Acorn Creek while also serving the larger community together. Although relative newcomers to the group, we are among the first to arrive onsite, as we purchased one of the existing houses on the property. We have enjoyed wandering through the woods, and we look forward to the arrival of the rest of our new neighbors!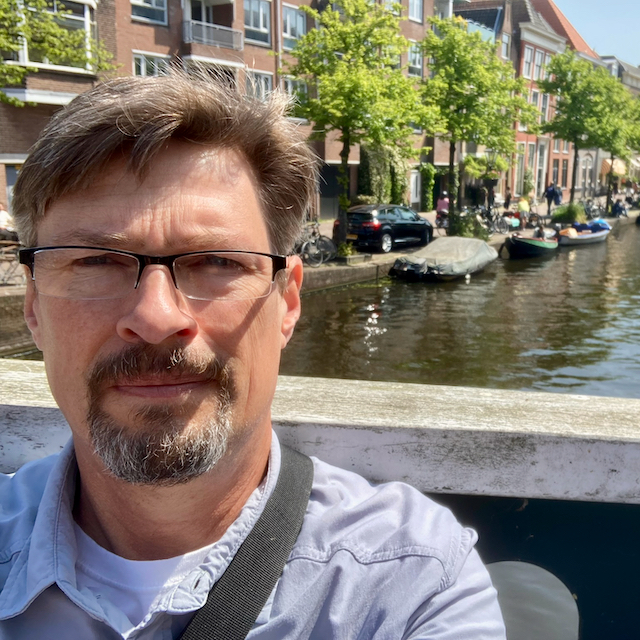 Learn More About Us:
Learn More About Cohousing: