Imagine Acorn Creek Community
Imagine a neighborhood of homes clustered around a lovely green commons area.  A short walk leads to a large house with many amenities, including a large kitchen and a great room, where you and your neighbors occasionally share meals, activities, and celebrations.
Imagine having a bunch of people around who are generally your age, who share many of your values, and are seeking concrete ways to live them out. People who are eager to connect, engage in service together, and have fun.
Cohousing residents enjoy it all: they have as much privacy as they want in their own homes, and as much community as they want, just by walking out their front door.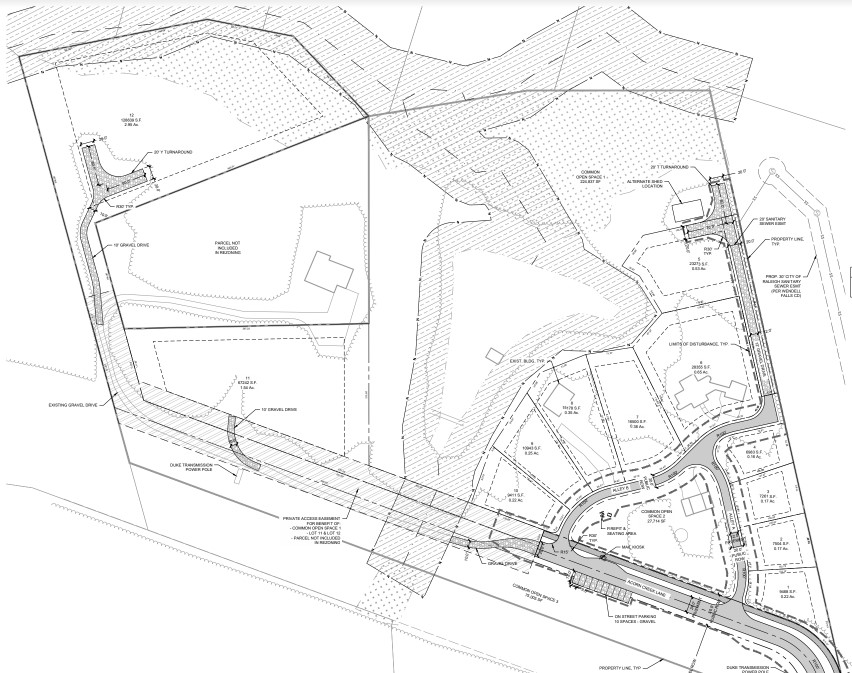 Some History of Our Cohousing Efforts
In 2019, several Raleigh-area people began meeting together to explore the idea of cohousing. All shared a commitment to inclusiveness and social justice and had ties to various area organizations and projects.  We met regularly to develop common principles to guide our group and explore options for possible locations and design. Initially, the focus was to find land close to Raleigh because of the members' jobs and involvement in local activities.  We considered a traditional cohousing model – small clustered individual homes with similar design, group space and a common house, community meals and activities, etc.  An LLC organization was formed in July 2020 and 9 households (17 individuals) became initial members with hopes of attracting an additional diverse membership. As it became apparent affordable land for this kind of project could not be found in Raleigh, the group began exploring other options outside Raleigh but still inside Wake County.  We then started to actively pursue options specifically in Wendell, a growing community 15-20 minutes from Raleigh which was adding amenities that many in our groups desired.  Being outside Raleigh also made it more affordable. When a large tract of [largely] undeveloped land in Wendell (19 acres with 2 existing homes) came on the market in March 2021, a couple in the group purchased it, and our focus shifted to this new opportunity. This couple moved into one of the homes in June 2021 and is acting as "developer."  Another member purchased and renovated the second home and moved in early in October 2021. The rest of the group continues to be involved in decision making and the work of making this the future home of our cohousing community. Site plans to subdivide the land into ~12 lots have been filed with the town, and an engineering firm engaged for the detailed site preparation has been retained. While timing is not firm, the expectation is the development plan will be approved and lots available for members' purchase in the summer of 2022.  We anticipate many members occupying homes in early 2023. Given the parcel of land is located on Acorn Creek Lane, the group decided
Acorn Creek Community
would be a fitting name for the cohousing group.